New APP for kayakers and all paddlers
We highly recommend this new App available from Paddle NSW. There are a huge range of capabilities including: Viewing real-time river levels, send invites to friends plus create a Float Plan to let people know before you set off on your trip. At ezy kayaks safety is always a top priority when we are on the water so we will definitely be downloading this App, We encourage you to take a look at it too.... best of all it's a FREE download.
http://www.waterwaysguide.org.au
Safety is our priority
We were lucky enough to have Gavin Beck from NSW Roads and Maritime visit us at ezy kayaks. Gavin is the Boating education officer and had heaps to tell us about safety on our waterways. Gavin was pleased with our knowledge on this topic. We mentioned safety is our number one priority here at ezy kayaks and we insist that all our clients wear approved PFDs even when kayaking less than 100m from shore. All of our kayaks also carry the paddle smart stickers containing essential safety information.
Gavin was able to supply us with a number of great NSW Maritime publications covering safety and safety equipment, in particular the recent upgrades to PFD ratings and use. We have a range of safety brochures and DVD's here at ezy kayaks and would be happy to assist anyone that might like to take a look.
Remember 'A Lifejacket never ruined a day on the water'.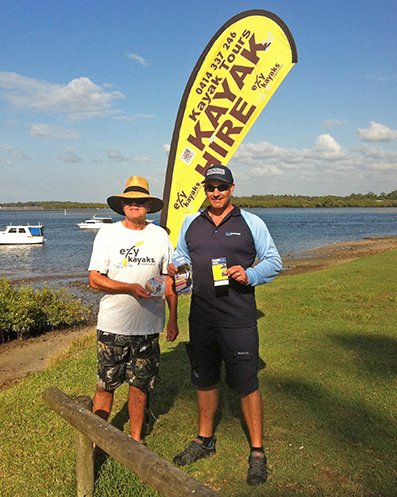 Resources:
Latest Lifejacket info
http://www.maritime.nsw.gov.au/sbh/safety_equipment/lifejackets.html
Kayak and Canoe safety
http://www.maritime.nsw.gov.au/sbh/other_boating/canoes.html
New reasons to try kayaking!
Excerpts from article written by Charmaine Yabsley SMH May 17 2013.

"Kayaking is a safe and effective activity that can be performed by everybody.

If you're not comfortable surfing or paddleboarding, you can still hit the water for a top-to-toe workout, although this time you'll be sitting, rather than standing. And while it looks like it is an exercise restricted mainly to the upper body, the entire body can burn up to 1000 calories an hour.
Body benefits
In research published in the Journal of Sports Science and Medicine, researchers from the School of Exercise and Sport Science at Sydney University found that "flat-water kayaking is characterised by exceptional demands on upper body performance". This is good news for our heart and cardiovascular system, which also means good news for our waistlines. The same study also reported low levels of body fat and a body composition favouring lean muscle mass in Olympic sprint canoe and kayak paddlers.
So why use a kayak? "Many people feel more comfortable in a kayak, as they're seated within it, supported on either side," says Olympic kayak competitor Jake Michael.
"Depending on your goals and type of paddling you enjoy, kayaking can be peaceful and meditative or pedal-to-the-metal-style," Michael says. "Either way, it is a good way reduce stress levels and increase energy."
Read the complete article here.